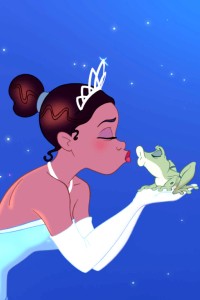 Now, before I get started, let me say this is for the ladies and the gents alike. Although I refer to the ladies, this also applies to those gents out there.
Alright, alright. Let me get to it.
The other day I was at the post office. And while waiting for my turn, I started reading the postcards. And then I came across one. Picked it up. Read it, reread it and desperately tried to make sense of the logic behind it, but dare I say, it just wasn't working. Quite honestly, it made me raise eyebrows with that "what in the world??" look.
Alright, here's what I saw. There was a greeny (as in, green background) picture of a little girl (she must've been what? Around 9?) with a frog in her hand, her eyes shut and her lips puckered, about to kiss the frog. It was an actual picture, not a cartoon drawing. Seriously, the picture was cute (I admit). BUT here's what got to me. On the postcard were the words:
"Il faut embrasser beaucoup de grenouilles avant de trouver son prince"
See, excuse me, I understand that's in french.
Now, let me translate (just make sure you don't fall off your chair):
"You have to kiss a lot of frogs before you find your prince"
It's like WHAT???? I mean, seriously what in the world?? Who came up with that????
Alright, alright, calm down. You're either thinking 'it makes sense that Funto's outraged'. Or you're thinking 'man, what's the big deal?'.
Ok, let me explain the fact that I like fairy tales. I love happily-ever-afters. Trust me. That's good. But I also know the difference between wonderland and real life. Now, I'm scared a lot of young people out there don't. While it may be good to go around kissing frogs in fairy tales (may I just point out, she only kissed ONE, who did end up being the prince?) in real life, that just doesn't work.
And no, I'm not talking about actual frogs or actual princes anymore. I'm talking about guys who deserve to be your knight in shinning armour and those who just don't. Here's what I think:
1) Ladies, YOU DON'T HAVE TO DO ANYTHING just so you can "find" your prince.

I'll elaborate on this in part 2.
If we're clear on that, then let's move on.
2) If that guy's a "frog" then you really should NOT be dating him, let alone kissing him. Why not save your kisses for the "right" guy?
3) I know that phrase just says "kissing" but you can take it out and replace it with something else. Like, let's say "put up with". No, you don't have to put up with the jerk because you think it's better than being alone. You don't have to let the jerk make you look down on yourself because you think no one else out there wants you. No. The right guy's out there. And you don't have to have dated the "frogs" before you meet him.
4) I know when the princess kissed the frog he turned into a real charming prince. Cool. But um...if that guy's a frog, sister, chances are he'll stay that way. You can't change anybody. So don't go thinking you can make a prince out of anyone. He can look like a prince on the outside but you know what they say about looks and how decieving they are. I emphasize, don't try to "fix" anyone!
And God's love letter to us says in Matthew 6: 31 - 34
"Therefore do not worry, saying, 'What shall we eat?' or 'What shall we drink?' or 'What shall we wear?'
For after all these things the Gentiles seek. For your heavenly Father knows that you need all these things.
But seek first the kingdom of God and His righteousness, and all these things shall be added to you.
Therefore do not worry about tomorrow, for tomorrow will worry about its own things. Sufficient for the day is its own trouble.
Well, that's all I'm saying for today.
Part 2 will be here soon.