Today, I'm reviewing
Real Life, Real Miracles: True Stories That Will Help You Believe
by
James L. Garlow
and
Keith Wall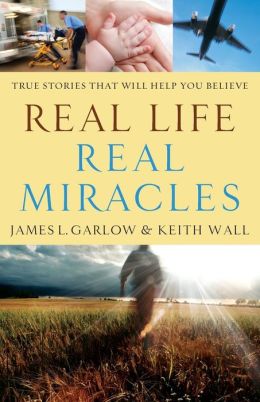 Is God Still Doing Miracles Today? Absolutely!
These real-life, credible stories of miraculous experiences, gathered by the authors of Miracles Are for Real, reveal that God is still very active in the world. Each gripping story is sure to encourage and inspire, offering hope and a sense of wonder.
• When Steve rolled his car, he should have been killed. Why didn't he die that day?
• Caleb and Penny moved to a poor part of town to serve their community. But when one group of neighbors makes and sells drugs, will God's angels protect them?
• Bob's MS was getting progressively worse. Could God heal such a debilitating disease?
Whether you've experienced God's miracles or aren't sure if you believe in them, explore fascinating true stories like these and many more. You'll be in awe of God's power as you get a glimpse of how he personally cares for each of his children—including you.
The stories in this book captivated my attention. Right from the very first one about Flight 811 (an incident I had never heard of and googled). It was uplifting to read about how God was working openly in people's lives.
At first it bothered me that the first few stories were about God saving people from the clutches of death. Though no miracle could ever compare to that, that wasn't the only thing that came to me when I thought of the word 'miracle'. However, stories of healing, angels and even about the simpler things in life soon followed. But I have to say that very first one about a passenger on Flight 811, the next one and another about a mechanic who saw two angels while his body lay crushed under a truck stuck with me the most.
Personally, I have a hard time reading nonfiction but I did feel the stories in this book were well related.
Overall a good and encouraging read that I would recommend!
I received a free copy of this book from Bethany House Publishers in exchange for an honest review.